[Special Feature Post] K-pop concert cheering culture in Korea🎉🕺💃
#KPOP #KConcert #ConcertCheering
Hi guys~!
This time, I prepared a special post. This is a story about a fun cheering culture at an offline k-pop concert in Korea. Idol concert culture in Korea has been developing for quite some time in a distinctive form. Idol concert culture is similar for each group, but if you look closely, they are very different. This is because the cheering slogan, method, and atmosphere are different for each concept. Most of the boy group concerts with many dance performances are in the atmosphere of jumping and playing with the fans. In the case of groups with a lot of visual-oriented performances, such as BTS and Bingbang, you often have to focus your attention. That's why, rather than 'jumping', they dance freely as if they were at a club. In the case of groups characterized by their singing ability, there are many fans who sang or shout. As such, the detailed cheering method differs according to the characteristics of the group. However, this time, let's take a look at the common things that are essential to fully enjoy a k-pop concert.
مرحبًا ~!
هذه المرة ، أعددنا لكم منشورًا خاصًا. هذه قصة عن ثقافة الهتاف الممتعة في حفلات الـk-pop في كوريا. لقد تطورت ثقافة حفلات الفنانين في كوريا على مدار الوقت بشكل مميز. تتشابه ثقافة حفلات الآيدولز لكل فريق ، لكن إذا نظرتم عن كثب، ستجدون أنها مختلفة تمامًا. هذا لأن الهتاف المبهج والأساليب والأجواء مختلفة لكل مفهوم.
معظم حفلات فرق الفتيان تمتلئ بالعديد من عروض الرقص و تتم في جو من الحماس والقفز واللعب مع الجماهير. في حالة الفرق التي تقدم الكثير من العروض المرئية، مثل BTS و Bingbang، غالبًا ما يتعين عليك تركيز انتباهك.
لهذا السبب ، بدلاً من "القفز"، يرقصون بحرية كما لو كانوا في نادٍ. في حالة الفرق التي تتميز بقدرتها الغنائية، فهناك العديد من المعجبين الذين يقومون بالغناء أو الهتاف. على هذا النحو ، تختلف تفاصيل الهتاف وفقًا لخصائص المجموعة. ومع ذلك، هذه المرة دعونا نلقي نظرة على الأشياء الشائعة التي تعتبر ضرورية للاستمتاع الكامل بحفلات الـ k-pop.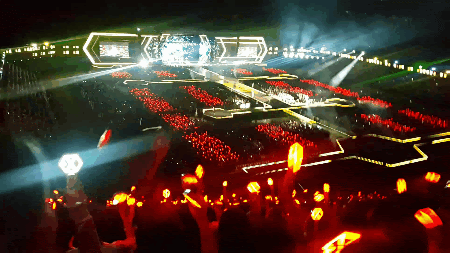 1. Cheering Tool